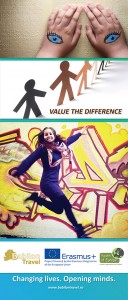 The project Value the Difference, financed by the European Union, through the Erasmus+ programme and coordinated by Babilon Travel NGO, has finished the two main activities:
A training course for 24 youth workers, educators and volunteers, from 5 European countries, involved in activities with young disabled people. The training was held in Cluj-Napoca and Muntele Băișoara resort, between November 3-11 2016;
A youth exchange for 40 young people and youth leaders, coming from the same 5 European countries, România, Polonia, Belgia, Grecia și Italia, youth exchange ment to let some of the youth workers, trained during the training course, to practice their gained and developed competences, regarding adaptive sport and outdoor activities, used as tools of inclusion for young disabled people. The youth exchange took place in Poronin/Poland, in a wonderful mountain region (Tatra), between January 16-23, 2016.
In these two main activities, there were directly involved, as participants, 19 blind and visually impaired young people. Through the activities held at the Special High School for Visually Impaired Cluj-Napoca, the project also involved many blind/visually impaired students and teachers of this institution.
The porpose of this article is to review how the project Value the Difference and its main activities were present in the national and international media. Continue reading…